MCAT Question of the Day services are a great, low commitment, way to continuously test your understanding of topics studied. Using this free resource in combination with MCAT Anki Decks and MCAT Prep Books can help fully prepare students for the MCAT.
We've compiled a comprehensive list of the best free MCAT Question of the Day services recommended by current medical school students. All these services are free of charge, but they may send marketing emails which we recommend you just ignore.
Scroll to the bottom of this post to see tips and tricks from past MCAT test takers on how to use these resources effectively during studying. Many students use these resources ineffectively, which can harm their overall performance on the MCAT.
Jack Westin MCAT Question of the Day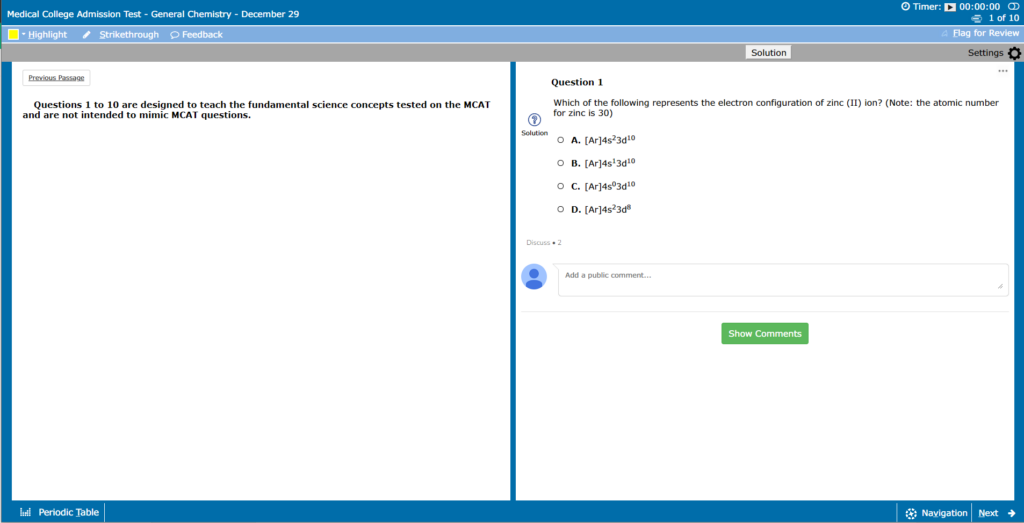 The Jack Westin MCAT Question of the day service is one of the best services out there. Their tests mimic the exact layout you can expect to see on test day. There are also active discussions for each question so that users can break down answers and learn from each other.
Jack Westin also offers a paid platform, however, we have not looked into it and are only recommending their services for their free questions.
You can check out their website here.
Kaplan Question of the Day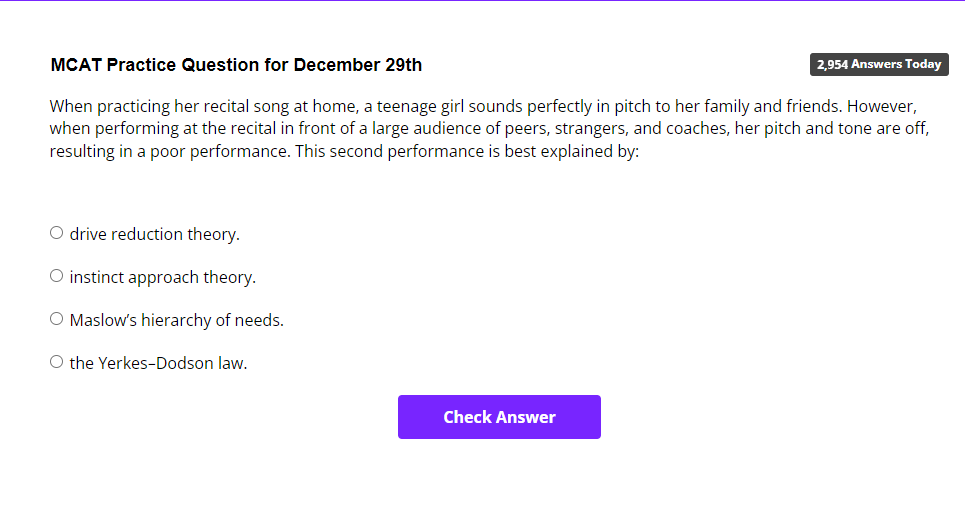 Kaplan is a well-known standardized test preparation service that has published many books for succeeding on the MCAT as well as offering tutoring services. Because of this, they offer some of the best quality of questions and answers. Additionally, because of how large of prep service they are, you can expect these questions to routinely be updated if any changes are made to the MCAT.
You can check out their website here.
VarsityTutors Question of the Day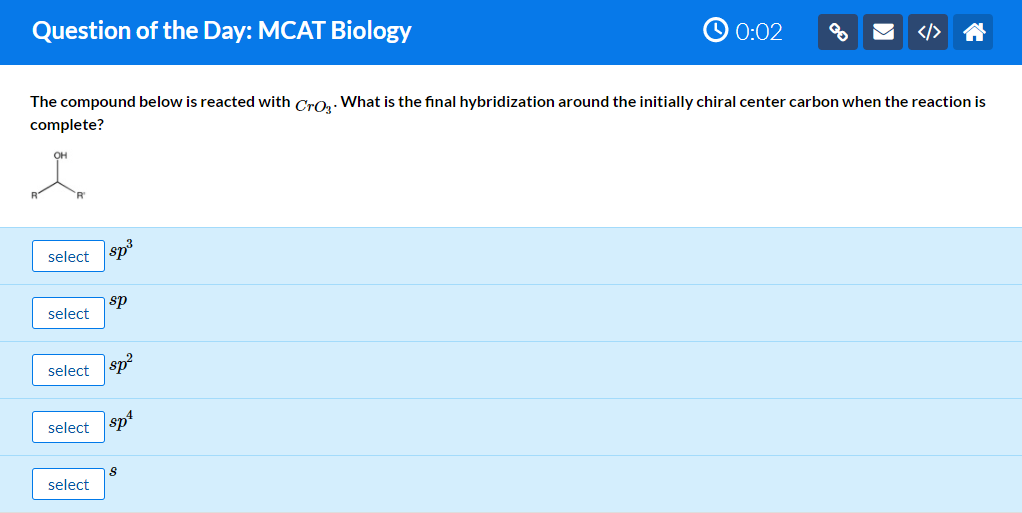 Varsity Tutors offer a great question of the day service that can be broken down into specific topics you wish to study:
MCAT Biology Question of the Day
MCAT Physical Question of the Day
MCAT Verbal Question of the Day
MCAT Social and Behavioral Sciences Question of the Day
While these questions are freely available on their website, users are required to create a free account to view answers and explanations. They will send email marketing to anyone who signs up, however, they can easily be ignored.
You can check out their website here.
BluePrintPrep MCAT Question of the Day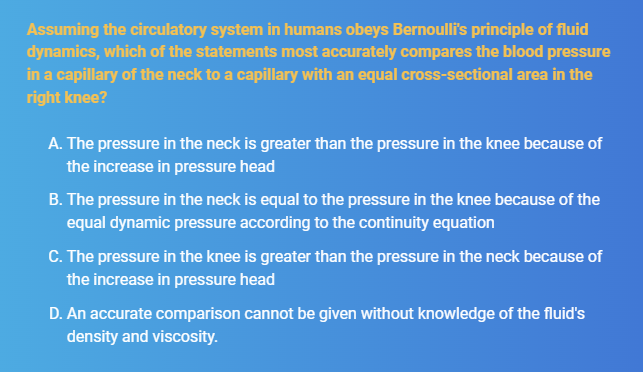 Similar to Varsity Tutors, the BluePrintPrep service is broken down into categories so that users can focus on specific topics they are weak in. However, this service is offered only through email marketing. Users must provide an email to receive daily questions and answers provided straight to their inboxes. Overall, their questions are well thought out, however, their answers lack some explanation.
You can check out their website here.
Self Prep Question of the Day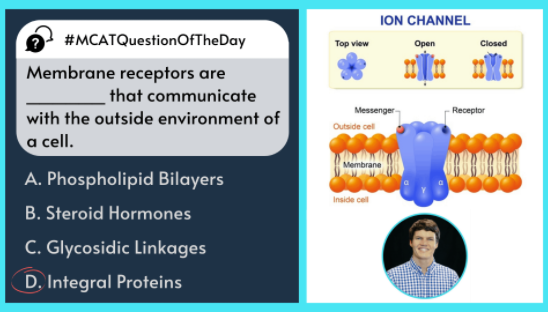 Like BluePrintPrep these questions are offered through email marketing. Self Prep questions of the day have some of the best explanations and answers to their questions. Each question will include an accompanying video explanation that breaks down answers with an explanation. It also includes tips and strategies to complete similar questions in the future.
You can check out their website here.
M Prep Question of the Day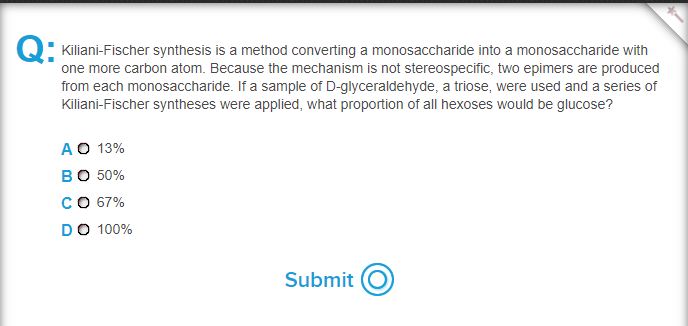 If you don't want to receive email marketing M Prep offers questions solely through their website. You will receive questions, a full explanation of answers, and a breakdown of what others have answered all without providing an email.
You can check out their website here.
Using MCAT Question of the Day Services Effectively
Using MCAT question of the day services can be helpful to students studying for the MCAT. However, many people use them ineffectively which can actually harm their MCAT performance. Here are some tips from past test takers to use these resources effectively:
Use these resources to test your understanding of topics you have already learned. Many students will use these materials without having prior knowledge on what is being tested. This can lead students down a wrong path of understanding, which can be hard to undo when learning material.
Treat these resources like a real test. Many test takers will immediately look at both the questions and the answers and assume that they will be able to memorize the material. This is an extremely poor use of these questions. These resources are here to test you, so treat it that way.
Go over incorrect questions and their explanations so that you do not make the same mistake again. Too many students read answers once and believe they know everything about the topic afterwards. If you have gotten the incorrect answer, you have taken incorrect steps to get to that answer. Whether it was an improper understanding of the question, content covered, etc you need to learn from your mistake and make sure it doesn't happen again.
Be consistent with when you use these resources. If you plan to use them every day stick to a schedule. If you choose to use these resources we recommend doing them everyday in the morning over a long period of time. These question don't take up much time and are a great way to get your mind started on preparing for the MCAT.
Use other resources in combination with your questions of the day. Doign questions of the day should only be a supplemental material. These resources alone will not be enough to score high on the MCAT. Consider looking at prep books, anki decks, and other resources.