Preparing for the Dental Admission Test (DAT) can be an extremely daunting task to many individuals. This standardized test is specifically created to test your knowledge of pre-dental topics and predict your ability to excel at dental school. Because of this, it requires intense focus and time commitment both during and before the test.
Getting a great score on the DAT is not impossible, many have done it before. Here are our tips from a high-scoring DAT test-taker on how to ace your DAT test and achieve your goals of getting into dental school!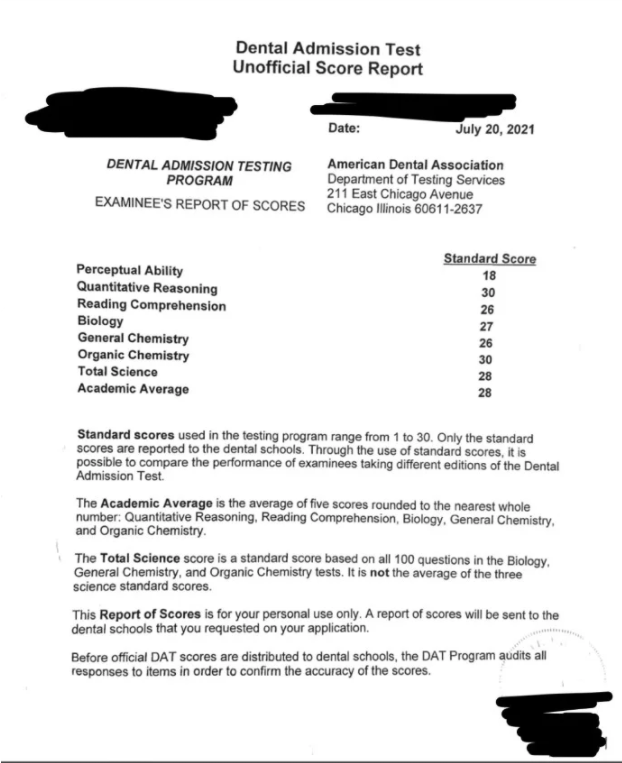 DAT Study Tip #1: Pay attention in your undergrad classes
This is more of a tip for those of you guys still in undergrad. But truly the best practice and knowledge you can gain for your DAT is in your undergrad classes. Pay attention. It truly made my DAT experience a lot easier and a lot less stressful. I have said this once and I will say it again, the undergrad classes GENERALLY are much more in-depth and difficult than the DAT.
---
DAT Study Tip #2: Study efficiently
I will openly admit I am a hypocrite about this but study efficiently. I am a guy who gets easily distracted by TikTok and social media a lot, and so I had to put in a lot more time studying compared to the average person.
However, the truth is that YOU DO NOT HAVE TO STUDY 12 HOURS A DAY. You can easily get away with studying 4-6 hours or less if you use your studying time efficiently.
---
DAT Study Tip #3: Find a schedule that works for you
Personally, I found that the schedule made by other DAT preparation courses advised too few topics for me each day and I did not work as hard as I could. Instead, I had my own schedule which I followed to help me feel as though I am accomplishing what I want each day. Find, create, and edit your own unique schedule for studying for the DAT. You know what you can do better than anyone else.
If you are one of those people who likes to take your time and have a schedule made for you though, I recommend using Ari's. I know a lot of people who did use Ari's and did well so again it's up to everyone's own personal preference.
---
DAT Study Tip #4: Practice is king
Practice as many problems as you can from whatever relevant platform you choose DATBooster, DATBootcamp, or even the free ones from MasterStudent. 
People ask me all the time and yes both of the paid platforms listed above are harder for RC and QR when compared to the real thing. I averaged about a 22 in RC and QR, but I ended up getting a 26 in RC and a 30 in QR. However, do not use that as an excuse to goof off. It is because I went in expecting to see something on the level of Bootcamp and Booster that I found the real thing to be much easier.
---
DAT Study Tip #5: Focus on your weaknesses and not your strengths
This may come as a no-brainer, but I see so many people who constantly complain to me that they have too much to study and this is because I see them prioritizing everything as opposed to just their weaknesses. There is no point in doing that. Focus on what you do not know to maximize the time you spend studying in an efficient manner. With that said, review what you do know so that you do not forget it, but it does you no good to constantly review something you are very strong in.
---
DAT Study Tip #6: Take practice tests under real conditions
I cannot stress enough how important it is to take practice tests under real conditions. It prepares you for what to expect from the real thing so there are no surprises.
I even recommend you wear a mask during my practice tests (because I took my exam during COVID) and treat them like a real test day. Meaning I would wake up at around 7 am get ready and then start my test at 8 am just like I did on test day. For reference, I took 10 full-length practice tests.
---
DAT Study Tip #7: Being overprepared > Being underprepared
Most of the study resources you use are harder than the real thing and some are MUCH HARDER. But it is much better to be over-prepared than underprepared.
---
DAT Study Tip #8: Do not use too much material
A lot of people I see make the mistake of investing in a lot of materials. I truly think it is important to have at most 4 main materials you are using for the sciences.
Having too many materials will only confuse you more in all honesty. Be smart with your study materials. Even try using our free resources to get you started.
Just as a side note, Booster is much cheaper than Bootcamp and both are sufficient for a solid score on their own. If you plan on buying either of them LOOK FOR COUPONS ON REDDIT!
---
DAT Study Tip #9: Do not risk a retake!!!
Go in thinking this will be a one-and-done exam. Do not halfa** the exam thinking you can always write again and risk having to waste another large sum of your school time, break time, and money. Go in ready! 
Do not be afraid to push your test date up or back. You know yourself best!
---
DAT Study Tip #10: Relax and breathe
On your test day do not be nervous. You got this! You've studied super hard to get where you are now. Good luck and see you in dental school! 🙂
---