How hard is it to get into McMaster Health Science?
For over a decade, McMaster's Bachelor of Health Sciences Honors Program has been the most selective undergraduate program to get into in Canada!
The health science acceptance rate has been around 5% for years. If you are a qualified applicant, with a high school average of at least 90%, you have a 1 in 20 chance of getting in.
In 2021 there were approximately 7000 applications for 240 spots. (1) That's an acceptance rate of 3.4%! This year, 2022, we expect an even larger number of applicants, however, since application grading is still in progress we will use the 2021 statistics for our breakdown.
Surprisingly, McMaster health science is harder to get into than Ivy League Schools. Here are the 2020 acceptance rates for the most prestigious and most competitive Universities in the United States: (2,3)
Harvard University: 4.9% acceptance rate
Princeton University: 5.6% acceptance rate
Columbia University: 6.1% acceptance rate
Yale University: 6.5% acceptance rate
Brown University: 6.9% 
University of Pennsylvania: 8.1%
Dartmouth College: 8.8%
Cornell University: 10.7%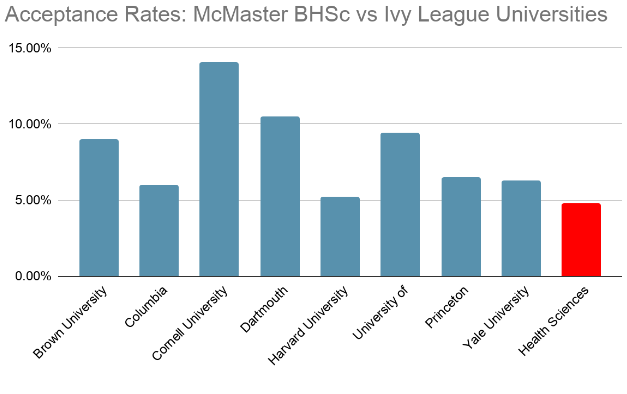 The above table illustrates that getting into McMaster health science is as hard as getting into Harvard!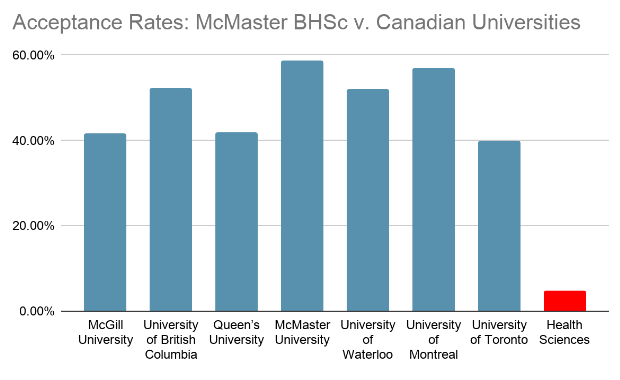 So why is McMaster Health Science so Popular?
McMaster health science is the most sought-after program in Canada because most of the graduates end up going into medical school. The program is seen by parents and students as the best pre-medical school program in Canada.
It is popular for parents to dream about their children becoming doctors. Those dreams are passed on to their children and hence many students dream of being a doctor.
The McMaster University website has a survey of all health sciences graduates from 2003-present: 2009 graduates responded, 1231 of them went into medical school. (4) That means 61.3% of health science students go on to become medical practitioners. There is no other undergraduate program in Canada that comes even close to these statistics. 
McMaster also has statistics for each graduating year which shows that this data has been consistent since the program's inception. (5) This information has been compiled into the pie chart below: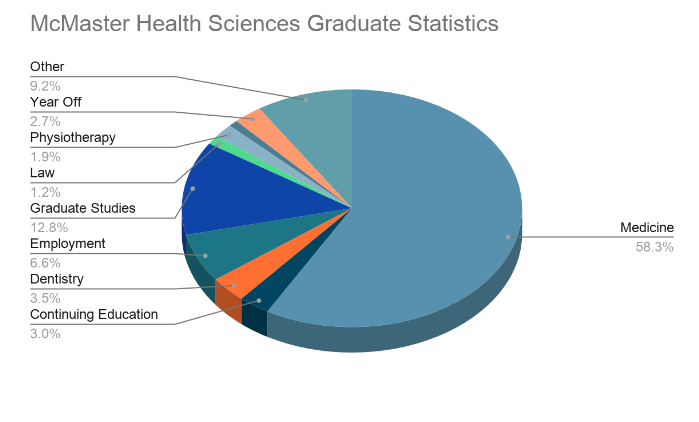 Without a doubt, if you intend to go into medicine, McMaster's Bachelor of Health Sciences Honors is the program to aim for. The numbers don't lie.
Want to learn how to apply and create a successful supplementary application for McMaster? Click Here.
Sign up to our email list to make sure you don't miss our future articles going over the entire application process and detailing what McMaster is looking for in its applicants.