How hard is it to get into Queens Health Science?
The Queen's University Bachelor of Health Sciences program is a relatively new and up-and-coming health science program that has been seen by many as a potential rival to the more established health science program at McMaster. Although it is new, it has already garnered a lot of attention and applications from high school students. So what does the Queens Health Science acceptance rate look like?
The health science acceptance rate has been around 4.25% for the past two years. In 2019 and 2020 there were over 4000 applications for 170 spots. This information was directly taken from the Queens Health Science website but has since been removed. That's a conservative acceptance rate of 4.25%! Please note that this acceptance rate only takes into consideration full-time on-campus students, as the BHSc program also offers online classes.
This year the co-director of the program, Dr. Adams, reported an increase in applicants to 5600 for the September 2021 entry! However, since application grading is still in progress, and admissions statistics still have not been released, we will use the 2020 statistics for our breakdown.
Surprisingly, Queen's health science is harder to get into than Ivy League Schools. Here are the 2020 acceptance rates for the most prestigious and most competitive Universities in the United States:
Brown University: 6.9% 
University of Pennsylvania: 8.1%
Dartmouth College: 8.8%
Cornell University: 10.7%
Harvard University: 4.9% acceptance rate
Princeton University: 5.6% acceptance rate
Columbia University: 6.1% acceptance rate
Yale University: 6.5% acceptance rate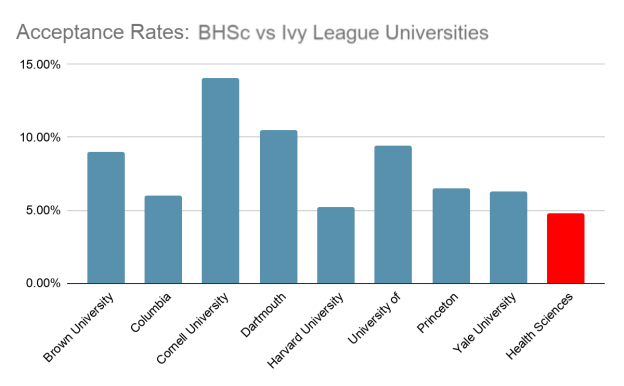 The above table illustrates that getting into Queens health science is as hard as getting into Harvard!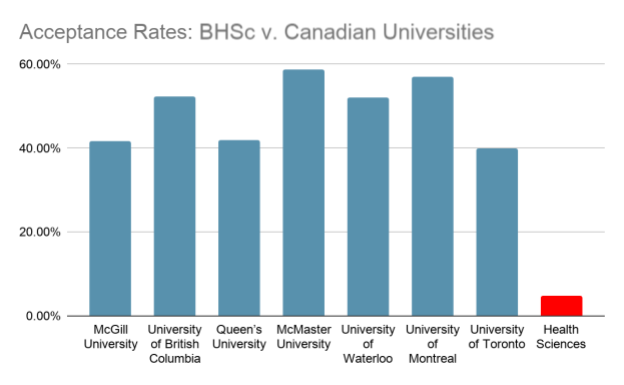 Despite the short time since the program's inception Queen's health sciences already has an acceptance rate similar to McMaster Health Sciences!
What makes Queens Health Science so Popular?
Although Queens Health Science is a new program it shares a lot of similarities to the McMaster Health Sciences program. In addition to sharing the BHSc name, Queens University has followed McMaster in offering smaller class sizes, more attention per student, and lots of room for electives. However, there are some differences, most notably the lack of use of an Inquiry-based model of learning.
The McMaster University website has a survey of all health sciences graduates from 2003-present which we have summarized here: Astonishingly, 61.3% of McMaster Health Science students go on to become medical practitioners. There is no other undergraduate program in Canada that comes even close to these statistics. But, with the creation of this new program, many believe that Queen's University has the tools needed to rival graduate statistics such as these.
Many students see the Queen's Health Sciences Program as a program that gives them excellent chances of getting into medical school. Although it remains to be seen whether the graduate statistics will be comparable to those of McMaster many Queens BHSc students have self-reported getting acceptances to professional schools. While we wait on official statistics from Queen's University we can expect to see the acceptance rate for their health science program to remain high for the foreseeable future.
Want to learn how to apply and create a successful supplementary application for Queen's Health Science? Check out our article going over the entire application process and detailing what Queens University is looking for in their applicants, including tips and tricks for a successful supplementary application!