If you are thinking of applying to McMaster's BHSc program, this blog post will help you figure out if the program is the right fit for you.
This post will help you with the critical application step of the supplementary application. Having a deeper knowledge of the BHSc (Honours) Program will help you emphasize the aspects of your inner self that align with the program's philosophies for a higher mark on your application. 
What is the McMaster Bachelor of Health Sciences (Honors) Program?
BHSc (Honours) Program at McMaster University is an undergraduate program started in 2000 by McMaster's Faculty of Health Sciences, the same faculty that administers the nursing program and medical school at McMaster. Since its inception, the program has gained a lot of attention for its unique teaching philosophies, admission competitiveness and the high percentage of alumni who are accepted to medical school.
 With an acceptance rate of around 5% and around 60% of its graduates going on to medical school, there is something different going on here!
Quick aside, Bachelor of Health Sciences (Honours) Program or the abbreviated name BHSc (Honours) Program are the official names, but people often also refer to the program as:
"Bachelor of health science honours"
"McMaster health"
"Bachelor of health sciences BHSc"
"McMaster health science"
"McMaster health science program"
"McMaster University health sciences"
"health science honours"
"health science McMaster"
"BHSc McMaster"
"Bachelor of health sciences McMaster"
All of the above refers to the "Bachelor of Health Sciences (Honours) Program at McMaster University" and all these names will be used interchangeably in this post.
When asked about the unique aspects of the Bachelor of Health Sciences Program this is what Health Science students say: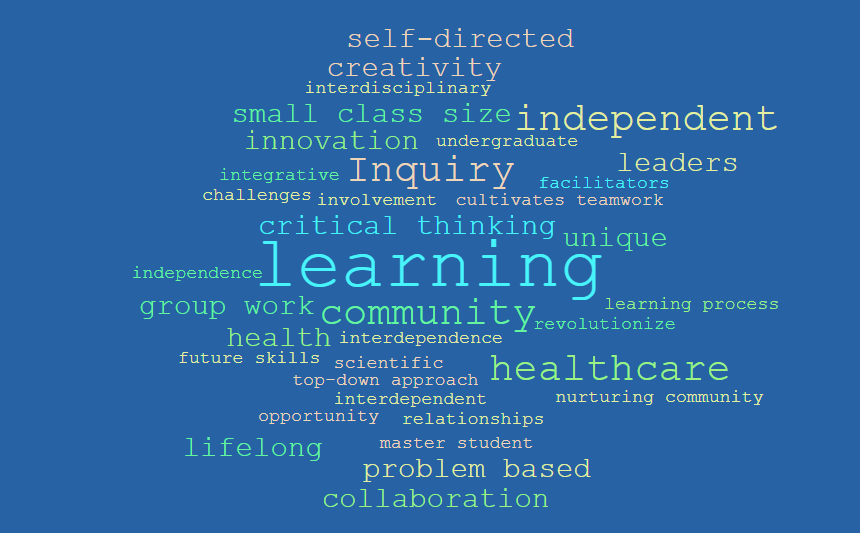 Let's take a closer look at what McMaster health science has to offer and see if its right for you:
What is the Inquiry-Based Learning Approach?
Inquiry-based learning is a core philosophy of the health science program. While some classes in the program will involve reading, studying, and memorizing materials, others are designed to encourage students to ask questions, explore new ideas, and share them with others. 
In inquiry-based learning, students are encouraged to become active learners. Classes will revolve around a few core concepts throughout the year, with no defined lesson plan or route on how to reach it. Replacing the traditional professor are facilitators who help enhance students' learning experience by fostering engagement and curiosity in the classroom while allowing students to take ownership of their learning and create a love for deepening their understanding of subjects. In addition to this students are given the tools to succeed in their studies, such as research tools, skills in communication, and group work. Success in these courses is largely based on the goals you set for yourself, within the scope of the course, the effort you put into achieving the goals, and the things you learn from the outcomes you achieve.
At the centre of Inquiry-based learning at McMaster are these 4 elements. Each element connects with each other in a loop of never-ending questioning, researching, and reflecting: (1)
Inquire: Inquiring is about determining what you want to learn about and formulating (and reformulating) the right question(s) to answer the question you want to learn about.
Research/Reflect: This stage is about figuring out who, what, or where you can find the information to answer the question, and effectively using them to research your topic.
Evaluate: Once you have research one must evaluate the quality and validity of the information you got. Does the information answer all your questions? Does the information bring up new questions? Has my original question changed?
Construct: Finally, once you've gotten all the information you want you must reformulate this question and synthesize it in a way that is interesting and easy to understand. Inquiry is highly based upon sharing information with others and you will find yourself learning with others on different topics.
The order of learning Inquiry is not set in stone. As seen by the outline below Inquiry involves a constant reevaluation of every step you make. The learning process is not perfectly defined and neither will your learning be. You will constantly find yourself reflecting and analyzing what you've done to improve the way you think the next time you do something similar. (2)
Why Teach Inquiry in Bachelor of Health Sciences and What are Master Students?
The purpose of the inquiry program is to teach students the skills that are highly sought after by everyone after graduation. All successful people are those who are master students, that have effectively utilized the skill of learning how to learn. McMaster has specifically identified these skills as those that are widely sought after in University Graduates: (3)
The ability to ask good questions
The ability to determine what needs to be learned in order to answer those questions
The ability to identify appropriate resources for learning
The ability to use resources effectively and to report on what was learned
The ability to self-evaluate
To read more about what a Master Student is click here. If you're interested in learning more about McMaster's Inquiry-based philosophy click here.
What are Class Sizes like in the Health Science Program at McMaster?
Another strong selling factor of inquiry-based learning and the health science program is its class sizes. Class sizes usually range from 15-25 students! That is virtually unheard of in most university undergraduate courses. Inquiry learning is a group learning process. Sharing what you've learned with others and working together as a team to learn new things is vital to the inquiry process. In these classes, you can expect to work with your team to: (4)
Identify your group's strengths and weaknesses
Divide responsibility among team members
Follow through on projects and deadlines
Teach each other and learn from each other
Give and receive constructive feedback from your peers
Deal with minor conflict within and among groups
Why use interdisciplinary Learning in McMaster Health Science Program?
Health science students are encouraged to approach their learning from multiple disciplines and perspectives revolving around health. This helps to encourage students to become critical thinkers and creative problem solvers. To help students do this the Faculty of Health Sciences offers BHSc students unique opportunities not available to most students. For those who don't know McMaster's Faculty of Health Sciences is one of McMaster's six faculties that oversees the BHSc program and the Michael G. DeGroote School of Medicine and School of Nursing. Because of this students have access to the health sciences' two-story library, anatomy lab, and teaching hospital. Students will find themselves in courses involving cadaver dissections and interactions with a standardized patient at the Centre for Simulation-Based Learning.
So what are the McMaster Health Sciences first-year courses?
Now that we understand the teaching style of the BHSc program let's look at the courses that first-year students take: (5)
HTHSCI 1E06 A/B – Inquiry I Introduction: This course will initiate the development of BHSc's skill set required for life-long learning. Students will use the inquiry model of learning to develop their skills in the 7 "Ps" of inquiry. Personal awareness, problem identification, problem-solving, peer collaboration, personal/peer evaluation, professional communication, and promoting and creating community. This course truly is self-directed learning and your success will be based on what you put into the course. 
HTHSCI 1I06 A/B – Cellular and Molecular Biology: Students will learn and explore the molecular basis of cellular communication in which a hybrid approach blending didactic and inquiry-based approach will be used. You will be graded on your knowledge and understanding using the OCAT (One Correct Answer Test) crossword test and on your application of this knowledge in the NOCAT (Not One Correct Answer Test) group work medical-related problem-solving scenario
HTHSCI 1G02 – Interdisciplinary Problem Solving in Health: This course examines health issues from multiple perspectives, emphasizes the links between them, and builds a conceptual toolbox for problem-solving across the domains of population and public health, biomedical and clinical issues, social and cultural aspects of health, and health systems and policy. Students will learn and be graded on their ability to develop appropriate research questions and actively seek out answers to these questions through the use of databases, journal articles, and scientific literature.
HTHSCI 1X01 A/B – Praxis Pathways 1: This course is all about self-evaluation, goal setting, and interacting with your peers. Students begin to actively develop capacities for: collaboration in the community; group process; leadership; lifelong learning; perspective-taking; reflection and reflexivity; and self-care and wellness.
CHEM 1AO3/1AA3 – Introductory Chemistry: Students will discuss the chemical fundamentals, including bonding, structure, reactivity, and energetics, with emphasis on applications to health, energy, and the environment. This will all be done through traditional teaching methods, involving lectures, labs, and tests.
Electives: The BHSC program offers plenty of room for electives with no requirements for the course you choose. Students are encouraged to take courses on topics that interest them within or outside of the healthcare space.
Is the McMaster Health Science Program Right for me?
McMaster Health Sciences is an amazing program that focuses on teaching some of the most important skills needed to be successful in whatever field you continue in after graduation. It has a high focus on inquiry-based and interdisciplinary learning as well as a focus on communication skills, group work, and reflection. With a focus on health, this program offers amazing state of the art facilities that usually aren't available to undergraduate students. And of course, if you're thinking about going into medicine this program's acceptance rates to medical schools is by far the best in the country.
That being said if this seems like the type of learning that interests you, we encourage you to check out our post on understanding McMaster Health Sciences prerequisites.