The UBC Dental program is one of ten dental programs in Canada and is considered the best dental school in Canada.
In 2021, the UBC dental school acceptance rate was 15%. Of the 380 undergraduate students that applied, only 58 were admitted into the program. However, the acceptance rate for applicants who applied from outside of British Columbia is significantly smaller at 2.5%. Of the 163 applicants who applied, 4 were admitted to the program.
The UBC dental school requirements and admission statistics are categorized here in the priority of what an applicant must submit to be considered:
Academic
Pre-requisite courses
Minimum number of years of undergraduate study required
GPA
Non-Academic 
Personal Statement/ Essays
Interview
All students applying to the UBC dental program must have completed at least 3 years of undergraduate study. They must include the following courses: 
| | | | |
| --- | --- | --- | --- |
| Prerequisite Course | Required | Lab Required | Credits Required |
| Biology | ✓ | X | 1 full or 2 half courses |
| Inorganic Chemistry | ✓ | X | 1 full or 2 half courses |
| Organic Chemistry | ✓ | X | 1 full or 2 half courses |
| Biochemistry | ✓ | X | 1 full or 2 half courses |
| English | ✓ | X | 1 full or 2 half courses |
UBC Dental School Admission Requirements: GPA Information
| | |
| --- | --- |
| Minimum GPA to Apply | Average GPA of Accepted Applicants |
| 2.8 | 3.90* |
*Estimated based on past applicant pools
The overall GPA is calculated on all transferable university-level courses. For students who have completed 4 or more years, the University of British Columbia will drop your worst year as long as it consists of at least 4 full-year course equivalents and is not your most recent year.
UBCs admission team has not released the average GPA of accepted applicants. However, given the average GPA requirements of other dental schools in Canada, we can assume that competitive applicants have acquired GPAs between 3.85-4.00 in their undergraduate years of study.
UBC Dental School Requirements: Dental Aptitude Test (DAT) and CASPER 
The DAT must be written no later than July 1st of the year of the application submission and must be taken within four years of the time of application. For students who have taken the DAT more than one time, the University of British Columbia will use your highest overall score in determining application decisions.
The UBC Dental school asses all sections of your DAT. However, the Manual Dexterity section is not required.
Students looking to test their knowledge in preparation for the DAT can click on this link to access our free practice tests for both the Canadian DAT and American DAT. For those looking for DAT prep courses, we recommend those offered by the Princeton Review. They are a reputable long standing company that offers a variety of different course options to meet individual needs.
Personal Statement and Letter of Reference:
Applicants are required to submit a personal statement about why they wish to pursue a career as a dentist. 
In addition to this, you will also be required to submit two letters of reference. One letter should come from a science professor in an upper-level science course, third-year or above. The second letter should come from a healthcare professional who knows the candidate on a professional basis (non-relative, no family-friend).
University of British Columbia Dental School Interview:
Interviews at UBC will consist of Multiple Mini Interviews (MMI) and Small Group interviews (SGI) conducted by dentists and faculty members. The Interview Team is unaware of the contents of an applicant's file or level of academic performance. Therefore, you can use your MMI time to reiterate some of the most important parts of your application, if that information is valid in responding to their questions.
Those looking for practice can check our posts on both MMI Practice Questions and Standard Interview Practice Questions here.
Offers of Admission Decision:
Your offer of admission to the UBC dental school is based on a holistic and comprehensive assessment of all the aspects of the application. The exact formula for these calculations have not been made known by the UBC admissions team.
At least 90% of seats will be offered to residents who live in the province of British Columbia. UBC has stated that only up to 10% of spots will be non-BC applicants. In 2020, 4 of the 58 students accepted were out-of-province applicants. This means that dental school students applying from other provinces and territories in Canada are at a significant disadvantage in terms of their application.
UBC Dental School Admission Statistics:
Although the UBC no longer uploads admission statistics in an easy digest table for their most recent years of application we have archived their admission statistics for the admission cycle of 2018 to give you an idea of who they accept.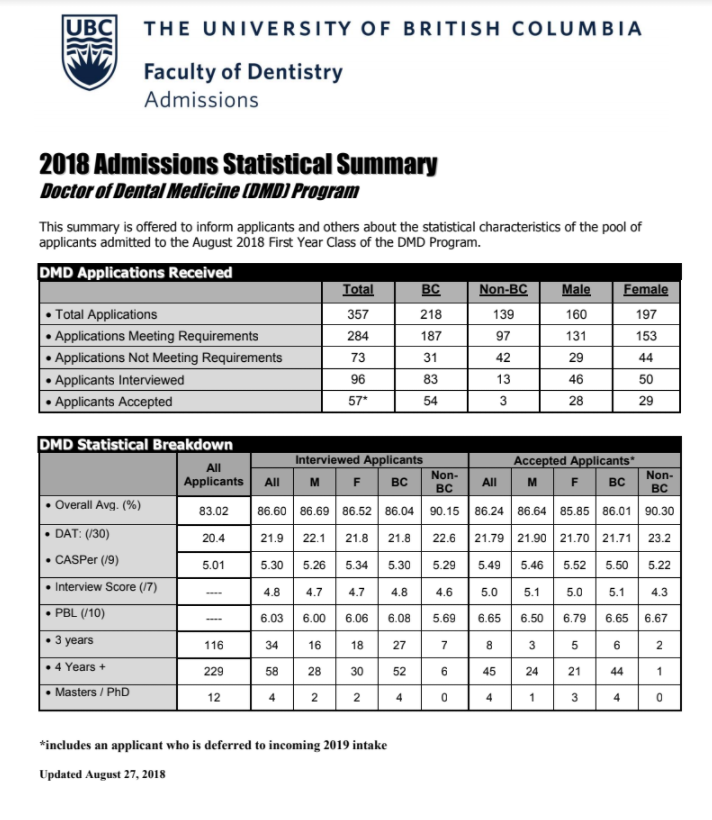 Requirements for other Dental Schools in Canada:
If you would like an in-depth analysis of the dental school requirements for other dental schools in Canada click on the links below:
We also have a comprehensive comparison of all 10 dental school requirements in Canada.